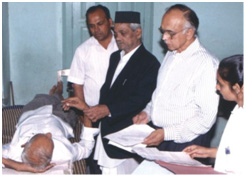 Cancer is a significant problem showing rising trend. No definite cure has been found yet for most of the cancers. Ayurvedic line of treatment gives relief to the Cancer patients. The project started from 1994 under the inspiration of Parampoojya P. K. Sardeshmukh Maharaj at Wagholi. Project is carried out at Pune, Mumbai, Kolhapur, Solapur, Nashik & New Delhi – Gurgaon.
Aims of the project –
Diagnosing cancer from Ayurvedic point of view
Evaluation of Ayurvedic treatment in various types of Cancers at various stages
Controlling progression of the disease & avoiding early & late recurrence
Increasing immunity of the patients
Improving quality of life by relieving symptoms
Reducing side effects of Chemotherapy & Radiotherapy
Increasing life expectancy
Finding causative factors of Cancer for curative & preventive purposes
Free Cancer Consultation Camps are held regularly.