Goshala Project
Mainly Indian cows and goats are reared & sheltered in Goshala Project. The purpose is to surely get the best quality of cow's and goat's milk, ghee and other milk products along with natural manure. This natural manure is used for medicinal plantation in Sanjeevani.
Vermi Compost Project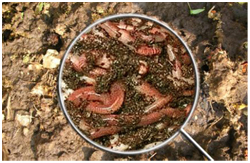 To enhance the efficacy of Ayurvedic medicine, the plants should be preferably grown up using organic fertilizers. Following th  e same principle Vermi Compost Project is started. Organic fertilizers are prepared using Earthworms. The decomposable garbage from Bharatiya Sanskriti Darshan Trust's canteen & pharmacy is used for preparing manure. Organic fertilizer prepared, is used for plantation of Sanjeevani Medicinal Plantation Unit, instead of Chemical fertilizer. The plants protected by natural pesticides & grown on organic fertilizers are used by Pharmacy & Canteen.