In the journey of Cancer Research Project it was felt that there is a need of common platform where the worldwide experts working in the field of Cancer should come together and share there valuable views on this crucial issue, where the experience, knowledge, opinions will be discussed with a common interest i.e. improving quality of life and life span of Cancer patients. To fulfill this need Dr. S. P. Sardeshmukh organised International Conferences on 'Ayurved for Cancer' which are held regularly every 5 years from December 1997.
First International Conference on "Ayurved for Cancer"
6th December to 7th December 1997
Venue : Holiday Inn
Pune, India
Deep Prajwalan Beginning of The Conference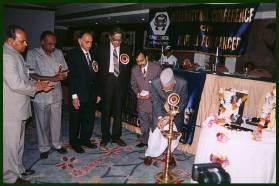 The First International Conference on 'Ayurved for Cancer' was conducted by the Bharatiya Sanskriti Darshan Trust's Ayurved Hospital & Research Center, on 6 – 7 December 1997 at Hotel Holiday Inn at Pune (Maharashtra, India). The conference was aimed at discussing the contribution of Ayurved for Cancer and to discuss the treatments offered for Cancer world over. The inauguration was done by Central council of Indian Medicine chief and renowned Ayurvedic physician Pt. Shri. Shriramji Sharma. Luminary Shri. Balasaheb Bharade presided the function. Chief of Tata Cancer Hospital, Dr. R. S. Rao and Director of Maharashtra State Ayurved Branch, Dr. R. R. Padmawar were the chief guests.
Proceedings of the Conference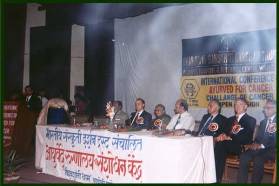 In course of his lecture, Pt. Shriram Sharma advised that while treating Cancer patients the Ayurvedic practitioners should consider the status of `Dhatwagni'. Senior Oncologist Dr. R. R. Rao expressed that Ayurvedic practitioners should blend Ayurveda – the traditional indian medical science with the modern medical science and conduct research with Ayurvedic medicines and take it to the international level. Director of Maharashtra State Ayurved Branch, Vd. Shri. Padmawar gave an encouraging speech about Ayurved for Cancer. About 200 national and international experts attended the conference. Amongst these, experts from the modern medicines, experts in Ayurveda, Homeopathy, Reki, Naturopathy were present. The conference proved to be a platform for physicians not only of Ayurvedic medicine but also from Homeopathy, Naturopathy etc.
Vd. Shri. S. P. Sardeshmukh, Director (Ayurved Hospital and Research Center, conducted by Bharatiya Sanskriti Darshan Trust) informed about the Cancer Research Project. He gave a short analysis about a thousand patients, who were registered with the Mumbai, Pune and Solapur centers in last three years under Cancer Research Project. He expressed how use of Ayurvedic medicines in Cancer patients resulted in reduced pain and suffering, increased level of immunity. He also explained how Ayurvedic treatment taken along with radiotherapy & chemotherapy helps to tolerate the side effects better and helps to increase the longitivity of life.
Under the guidance of Dr. Arvind Kulkarni and Dr. Shirish Kumthekar, who are the co- ordinators of the Cancer Research Project eight research papers were presented. The topics included Ayurvedic treatment for Blood Cancer, Effects of Panchakarma in Cancer, Ayurved for management of side effects of Radiotherapy & Chemotherapy, Treatment for Oral Cancer, Treatment for Bone Cancer; Benefits of Yoni Pichu in Cancers of reproductive system in ladies, External treatment of surgical wounds.
Amongest the research papers submitted the work of Vd. Bhavana Dhut from the Jamnagar University and Dr. Jyoti Shirodkar of Ruby Hall Xray Department won prizes.
A dialog was arranged in the topic 'Cancer challenges and Ayurved'. The participants were renowned oncologists
Dr. Anuradha Soni, Dr. Poehlman (Australia), Vd. R. B. Gogte, Vd. Vilas Nanal, Dr. P. S. Patki, Vd. S. P. Sardeshmukh.
On this occasion Patients from the Cancer Research Project shared their experiences and the success of Ayurvedic treatment given to them.
In all 45 research papers were submitted. The conference was concluded by an `Open session' organized at Nowroji Wadia college. The session was free and helped to solve the queries of the patients, their relatives and free them from fear of the disease and cure.
Vd. S. P. Sardeshmukh, Dr. Arvind Kulkarni, Dr. Poehlman, Dr. Morel, Dr. Sumati Bharde and Dr. Barde participated.
Shri. Prataprao Pawar, Social worker and Managing Director of `Sakal Newspaper group', presided the session `Introduction to Ayurveda' – a three day session which was organized prior to the conference. It was conducted by
Dr. Narendra Pendse, Dr. Pawaskar, Dr. Nadkarni and Dr. (Mrs) Suru.
Succsessfully interaction about Cancer and research about it was made possible to National and International practitioners during this conference.