In the journey of Cancer Research Project it was felt that there is a need of common platform where the worldwide experts working in the field of Cancer should come together and share there valuable views on this crucial issue, where the experience, knowledge, opinions will be discussed with a common interest i.e. improving quality of life and life span of Cancer patients. To fulfill this need Dr. S. P. Sardeshmukh organised International Conferences on 'Ayurved for Cancer' which are held regularly every 5 years from December 1997.
Third International Conference on "Ayurved for Cancer"
23rd February to 25th February 2007
Venue : Brightland Village
Mahabaleshwar, India
About Cancer Research Project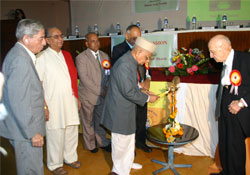 The word 'Cancer' itself creates fear and anxiety in the mind of a person. One of the reasons being that, inspite of the conventional treatments available the mortality rate still remains high. Cancer Research Project was started in 1994 under the guidance of Param Poojya Shri Prabhakar Keshav Sardeshmukh Maharaj and inspiration of Late Shri. Balasaheb Bharade and Mrs. Indumati Bharade. This project is conducted at Pune, Mumbai and Solapur. Until now more than 3000 patients have been registered in the project. Ayurvedic treatment is given with the consultation of Dr. S. P. Sardeshmukh. Dr. Arvind Kulkarni (Ex – HOD, Radiation Oncology, Director, Radiation Oncology Department, Lady Ratan Tata Hospital, Mumbai) and Dr. Shirish Kumthekar (well known onco surgeon from Solapur) act as co-ordinators in this project.

Research Papers – Patient Experience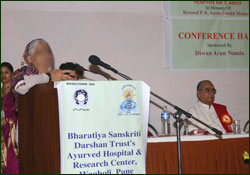 Various research papers were presented by Dr. Ranjeet Nimbalkar,
Dr. Mrs. Vasanti Godse, Dr. Ms. Vineeta Deshmukh, Dr. Mrs. Swapna Kulkarni,
Dr. Mrs. Jyoti Badwe, Dr. Sameer Gore, Dr. Shriniwas Datar, Dr. Mrs. Renuka Gayal and Dr. Mrs. Laxmi Jaiswal. The papers presented were based on the work done by Ayurved Hospital and Research Center. Patients registered in the project also narrated their experiences regarding their fight against Cancer through positive attitude, about the benefits they achieved by the Ayurvedic and Allopathic treatment and also the diet regimen. Dr. Shrikant Bagevadikar, Dr. Mrs. Urmila Pitkar, Dr. Prashant Sawant presented their individual observations regarding the treatment given by them to Cancer patients. In the next session
Dr. R. L. Marathe, Dr. Dilip Gadgil, Dr. A.U. Rehman, Dr. Mike Godfrey,
Dr. Poehlmann, Dr. Vilas Nanal, Dr. Balaji Tambe, Dr. Adriana Alexandru delivered lectures on Ayurved and various other healing pathies.

Panel Discussion  on 'Directions for Research in Ayurved'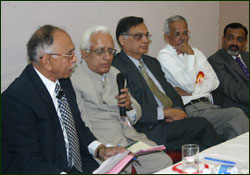 On 25th February 2007 panel discussion was held on 'Directions for Research in Ayurved'. Dignitories like Dr. R. D. Lele, Dr. H. S. Palep, Dr. B. G. Sahasrabudhe, Dr. Jayaprakash Narayan, Dr. Shirish Kumthekar, Dr. Narendra Bhatt,
Dr. S. P. Sardeshmukh, Dr. Vilas Nanal, Dr. Shrikant Bagevadikar participated in the discussion. Dr. Arvind Kulkarni chaired the session. In the next session
Dr. Jayaprakash Narayan, Dr. G. R. Ekbote, Dr. P. H. Kulkarni, Dr. Mahesh Kanojia narrated their experiences on the research work done in Cancer. In the concluding session Advocate C. R. Dalvi expressed satisfaction about the work presented and extended his heartfelt wishes for the project.
Dr. S. P. Sardeshmukh thanked all those who lent a helping hand to make this conference a success.